Project Background
In late summer 2015, On-Site decided that our customer relationship management product, also referred to as "guest cards," needed to be improved upon. We received feedback on and off from various clients about parts of the product that were difficult to use or lacking in feature depth, but we did not have a complete picture of what needed improvement.
We decided that one of the best ways to address the feedback was to partner with a client that was using the product and complete a field study to learn more about how we could improve and what was missing from the product.
The initial trip was a success, and after writing up the results, I mocked up a new experience and brought it back out into the field to test and gauge improvement.
Project Involvement
I was responsible for running the field study, from its planning through the write up of results. One of my design team colleagues joined me on the trip, along with an account manager from our sales team.
Research Goals
We had a few overarching research goals for the trip:
Find actionable ways to improve the product for leasing agents.
Learn more about the prospective renter's life cycle.
Gain empathy for prospective renters.
To achieve these goals, I planned the following activities:
In-person usability tests with leasing staff, using our live product.
Three leasing office visits to sit and interview the staff, focus group style.
A day of acting as prospective renters with my colleagues, shopping for apartments in Los Angeles.
Initial Trip Results
The initial trip results were written up in 21 pages of findings. The document contained 19 recommendations for usability fixes, a thorough summary of the client's prospect management process, and some thoughts on what worked and what did not work for prospects when they show up in a leasing office based on our anonymous shopping.
After putting together the results, my next goal was to mock up a new experience to address the issues we found. The mock up was created using PHP to make it "smart" and remember some basic state. It used our product's live style guide to easily add components as needed.
Mock Up Samples
Below are some samples of the mock ups created to as part of the project: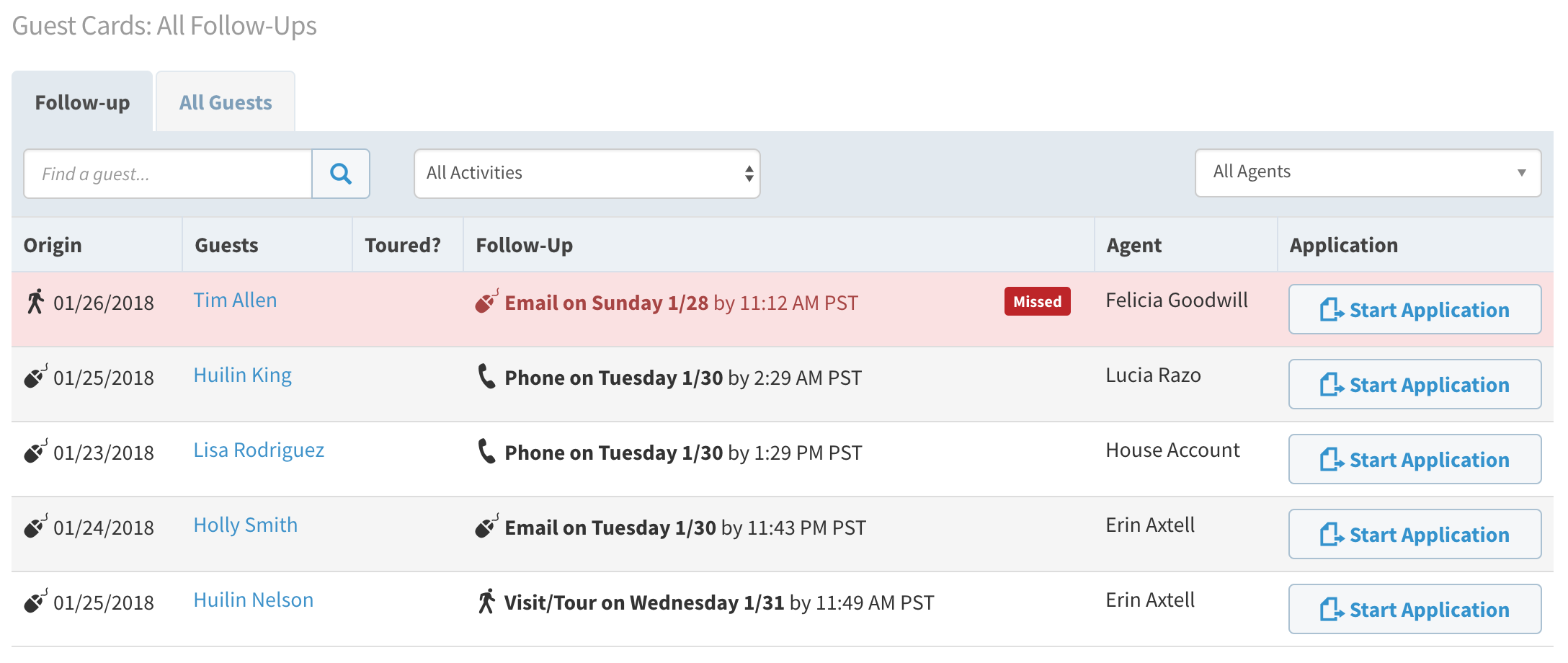 The leasing agent's view of their follow-up.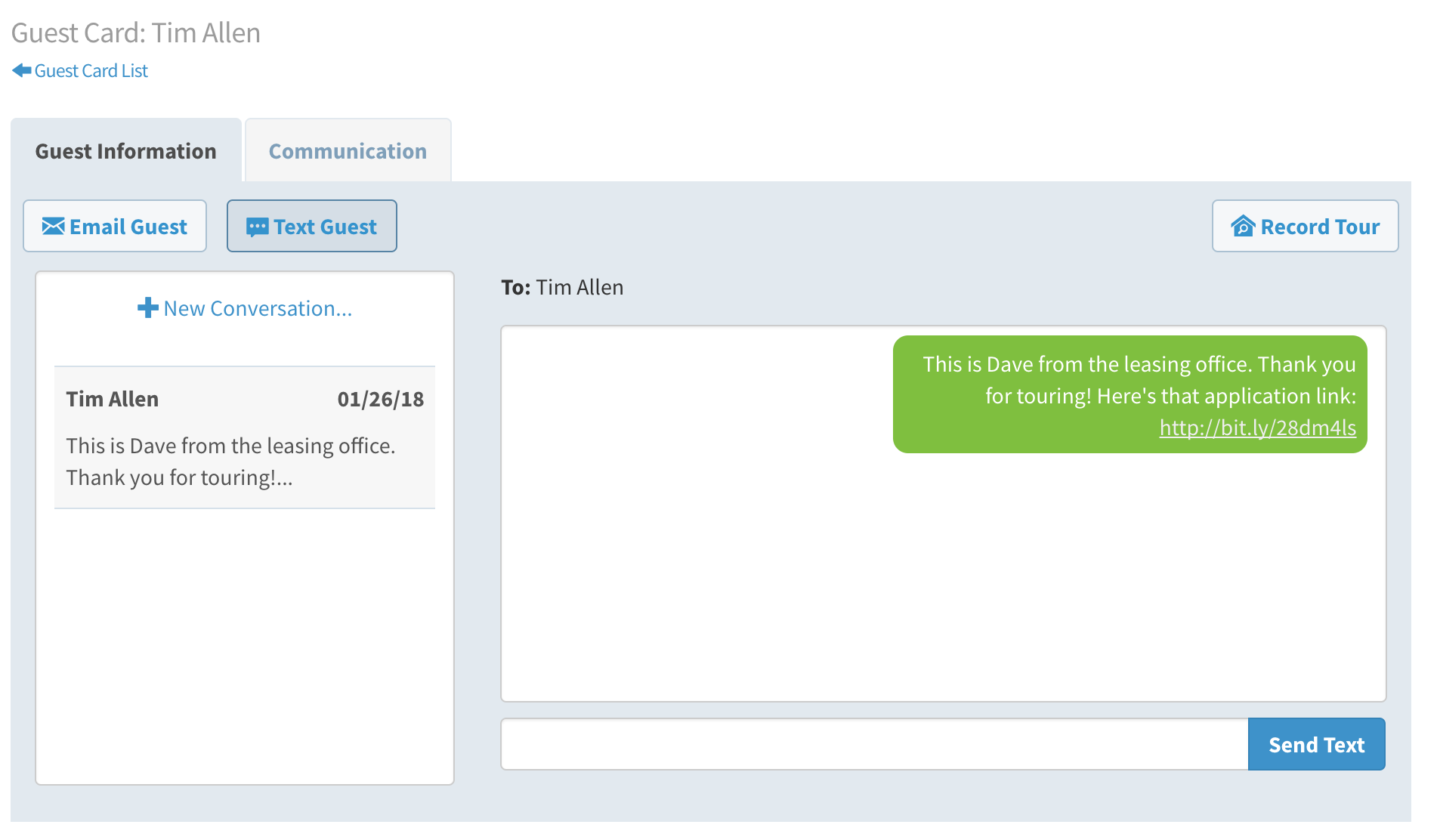 Text messaging a prospect via a browser.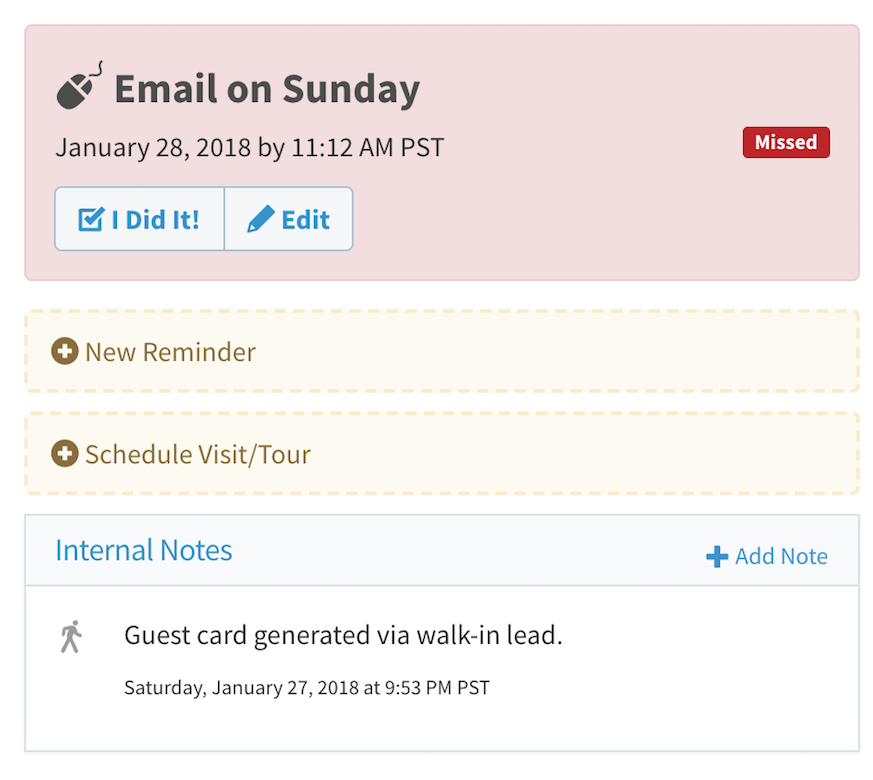 Controls for defining a leasing agent's follow-ups.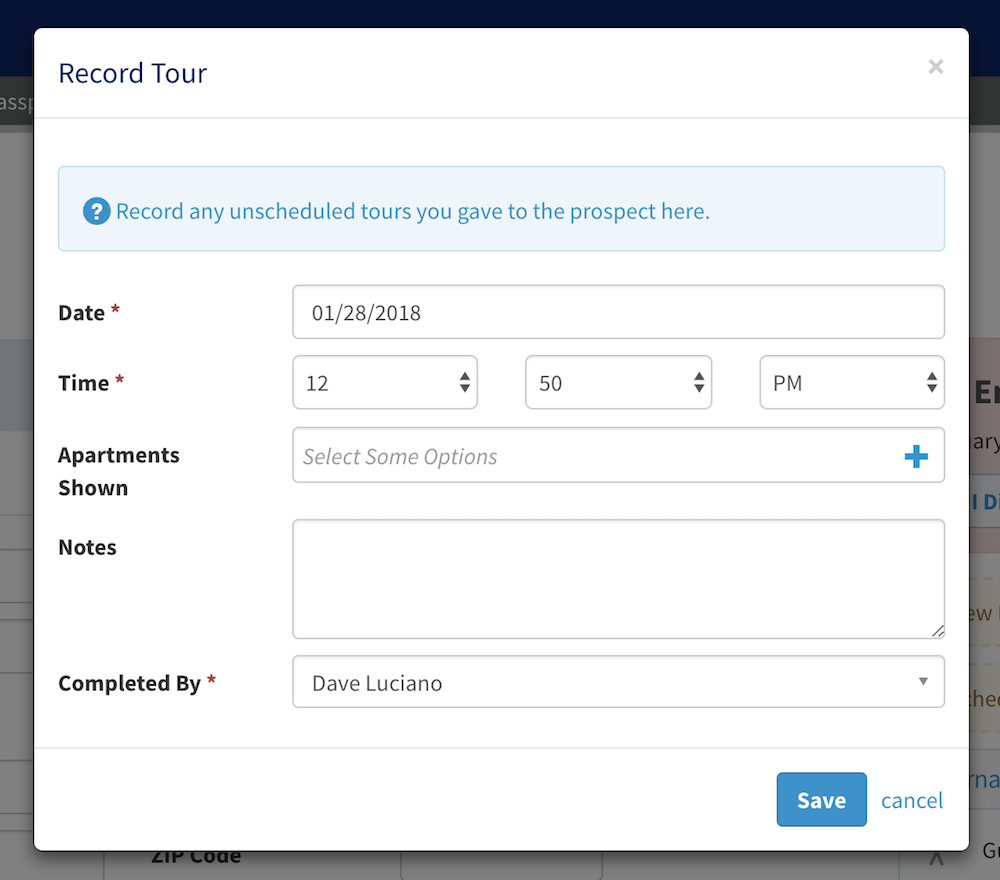 A dedicated component for recording apartment tours.
The mock ups I created were useful for two reasons: (1) to use during a return trip to test improvement, and (2) to provide engineering something to work from when implementing the changes in our product.
Return Trip Highlights
The second trip was a simple day trip. My only goal was to take the new experience mock up, use the same usability test tasks from the first trip, and see if users had more success.
Overall, each office visit was far quicker with improved task completion times, along with far higher rates of positive feedback about the UI. (The initial trip was mostly met with frustrated comments.) Armed with this proof of improvement, we were able to get the engineering time to implement most of the usability fixes, along with some new attention on larger scale infrastructure improvements to boost our product's speed and reliability.