Project Background
The Renter Relations Help Center is a website where renters can correct inaccurate or incomplete information that appears on the background check generated with their apartment rental application. At the Help Center, an applicant can receive a copy of their background check, and if they find anything out of place, they can submit a dispute with supporting documentation.
Project Involvement
I was involved with the RR Help Center product since its conception in fall 2013. I acted as lead designer for the product, and after the first iteration, I stepped in as the product owner and advocate. I designed the entire product experience, ran numerous user tests, coded some components, and product managed the components that required an engineering team.
Since consumer reports are involved, the background check access and dispute process are governed by the Fair Credit Reporting Act (FCRA), and as a result, I learned to work closely with our legal team throughout the design and implementation process.
The Design Process
Prior to the product's birth, On-Site's Renter Relations team worked exclusively in Salesforce, accepting disputes from applicants via email, fax, and phone.
Need Finding
To learn more about the team's process, I spent several weeks shadowing members of the team to learn and observe their process.
I observed several areas ripe for improvement with the original set up:
Salesforce did not know who the applicants were, and On-Site (where the background checks lived) did not know that applicants had disputes. Numerous employee hours were spent connecting the dispute documentation received in Salesforce with the application in On-Site.
Receiving disputes via email is not very secure. In the interest of securing our applicant's personal data, we wanted to move the process online where they could upload documents securely.
Phone calls were also treated as a first step in the process before we had the online Help Center. Requiring applicants to call first to learn about the dispute process and receive a copy of their background check usually resulted in lots of questions, and a lot of wasted time talking to applicants.
After learning about these issues, I set out creating an online experience for renters who wished to review their background check and (possibly) submit disputes.
Iterating on the Design
I worked with my colleagues on the branding and styling for the mock ups, which I then used to set up some usability tests.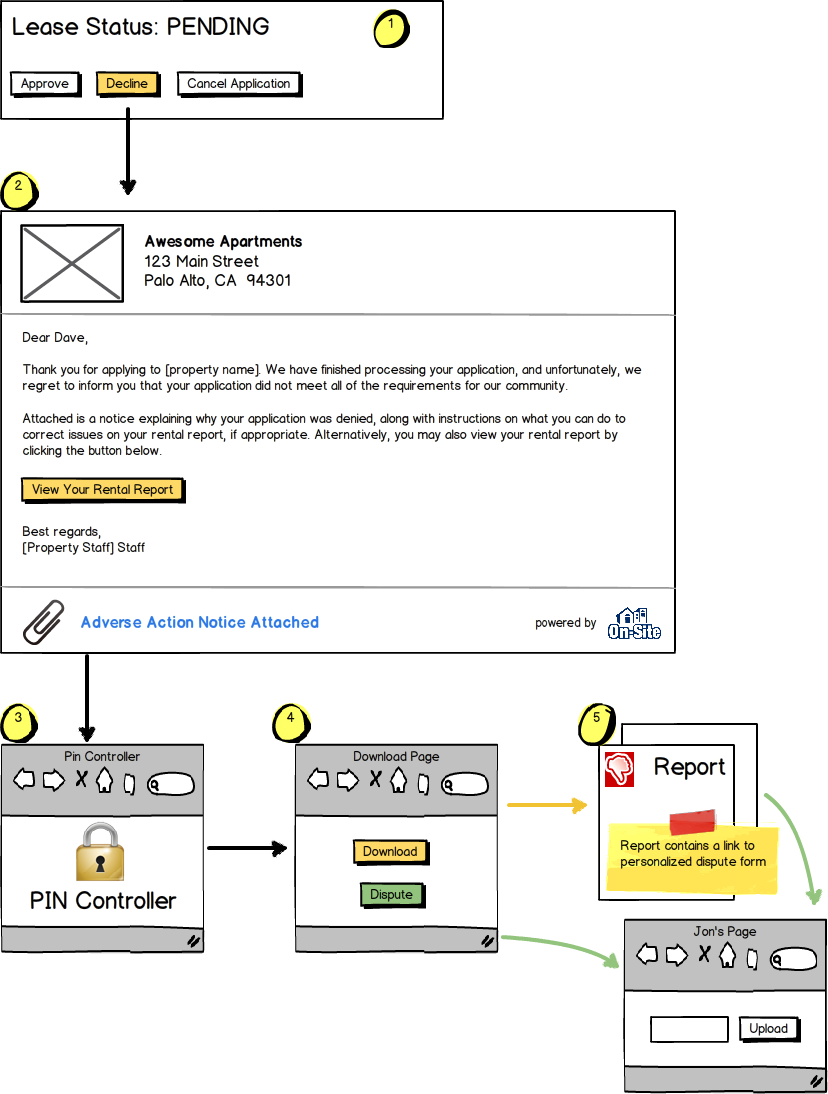 Initial interaction flows of the applicant's view. This was created in Balsamiq.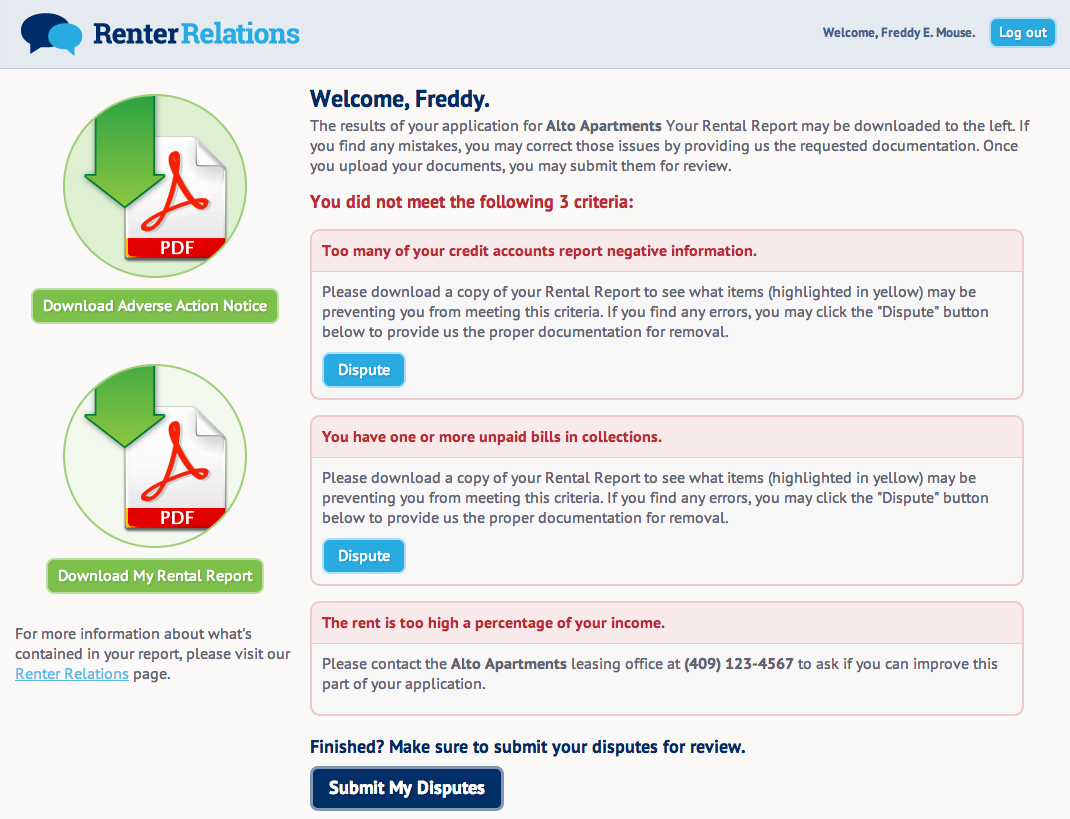 The first styled iteration of the applicant's view. I worked with one of my design colleagues to get the styling and branding down.
In testing, we found a few issues with the design above:
The documents on the sidebar (a PDF copy of your background check and a formal letter denying your application) were often missed, despite these being important for the applicant to review.
Applicants always assumed they were denied, which is not necessarily true. (But one of our design constraints was that we could not tell the applicant if they were denied or not—that was up to the leasing staff to communicate.)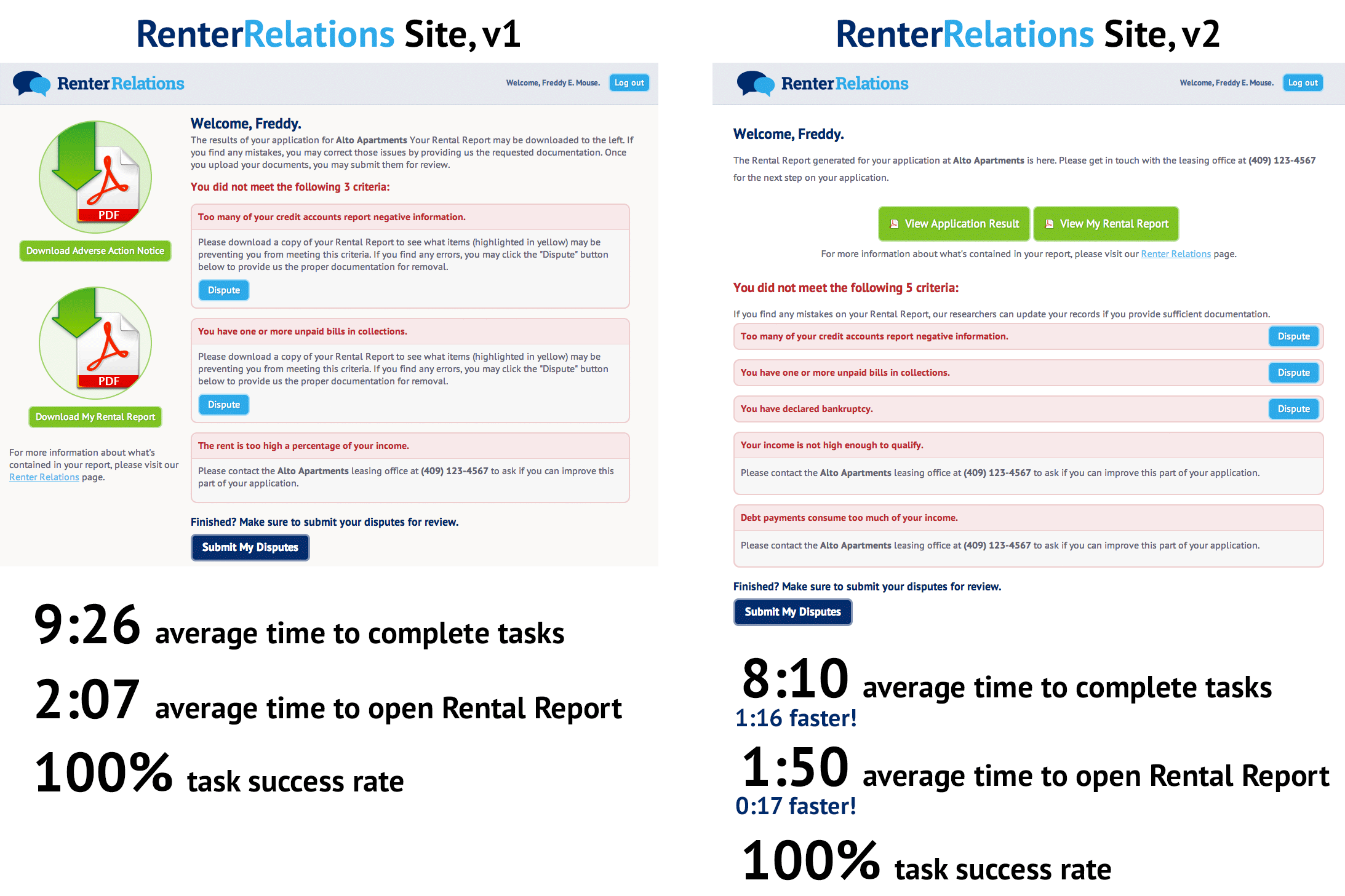 Test results from some iterated usability testing and wireframing.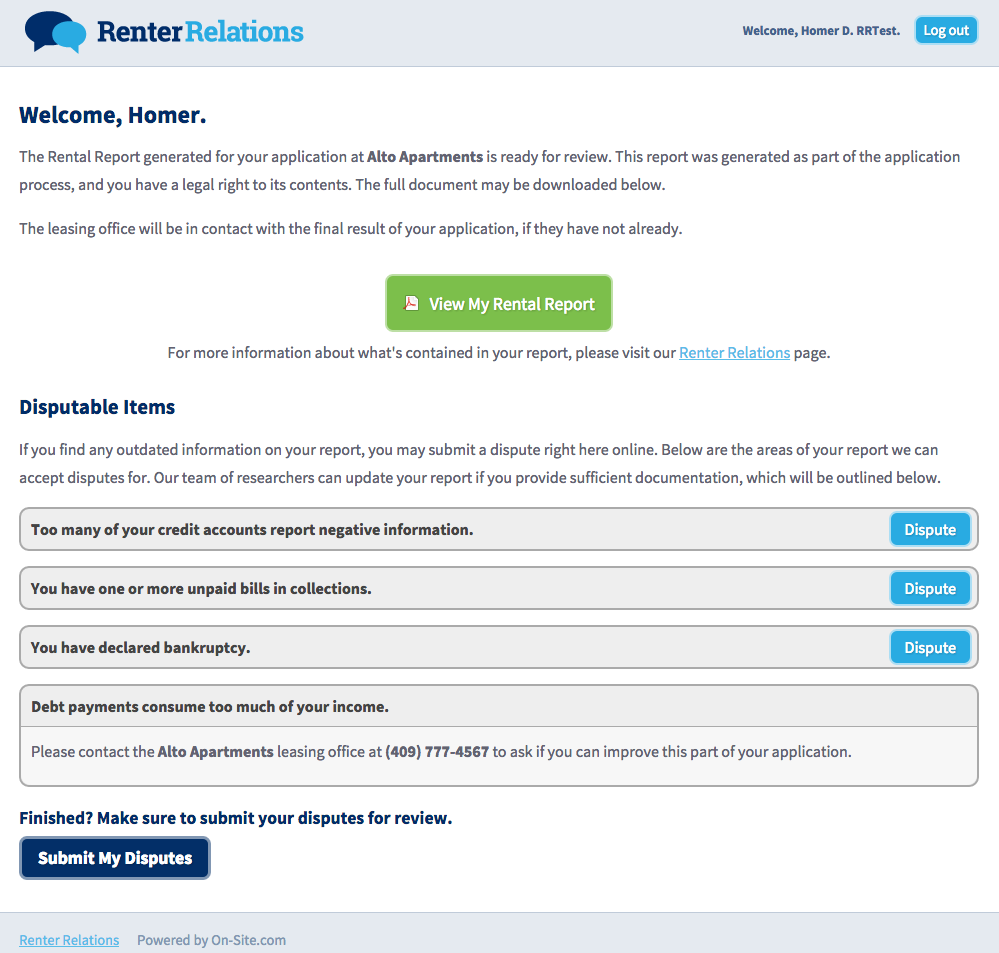 The final design. The red coloring from prior versions was removed after receiving feedback that red indicated a denial.
With an actual product built for applicants to use, we were able to extend the experience further by inviting applicants to visit the Help Center automatically via email. One of those emails gets sent automatically whenever a background check is initiated, prompting the applicant to log in and review their background check as soon as it's finished.
Final Thoughts
The first iteration of the Renter Relations Help Center solved numerous issues with the dispute process:
It allowed applicants to submit a dispute through our website, which connected their dispute directly to their application and eliminated the time needed to research the applicant when receiving a dispute in Salesforce.
Bringing the dispute process into our website directly eliminated the need for applicants to email in sensitive documentation, increasing the security of sensitive information.
With applicants being notified immediately about their background check, we eliminated a round of telephone for applicants who needed more information on why they may have been declined.
Overall, the Renter Relations team has been able to process disputes faster and more efficiently thanks to the implementation of the Help Center. The team was committed to processing a dispute within 1-2 business days. However, with the new system in place, we were frequently seeing same-day processing.
Going Further
A year or so after this initial design implementation, I took it a step further and mocked up a proprietary backend to replace Salesforce as the system of record for disputes. The process involved multiple rounds of user testing with our agents, along with getting our legal team's input along the way.
At this point, I fully took over as the Renter Relations product manager and advocate. I saw the new backend over the finish line and launched it with the team in June 2016. This release also allowed us to have even more granular analytics baked into the Renter Relations process, such as being able to calculate, on a per-client basis, how many leases we were expediting move ins for and how much revenue we were bringing to them.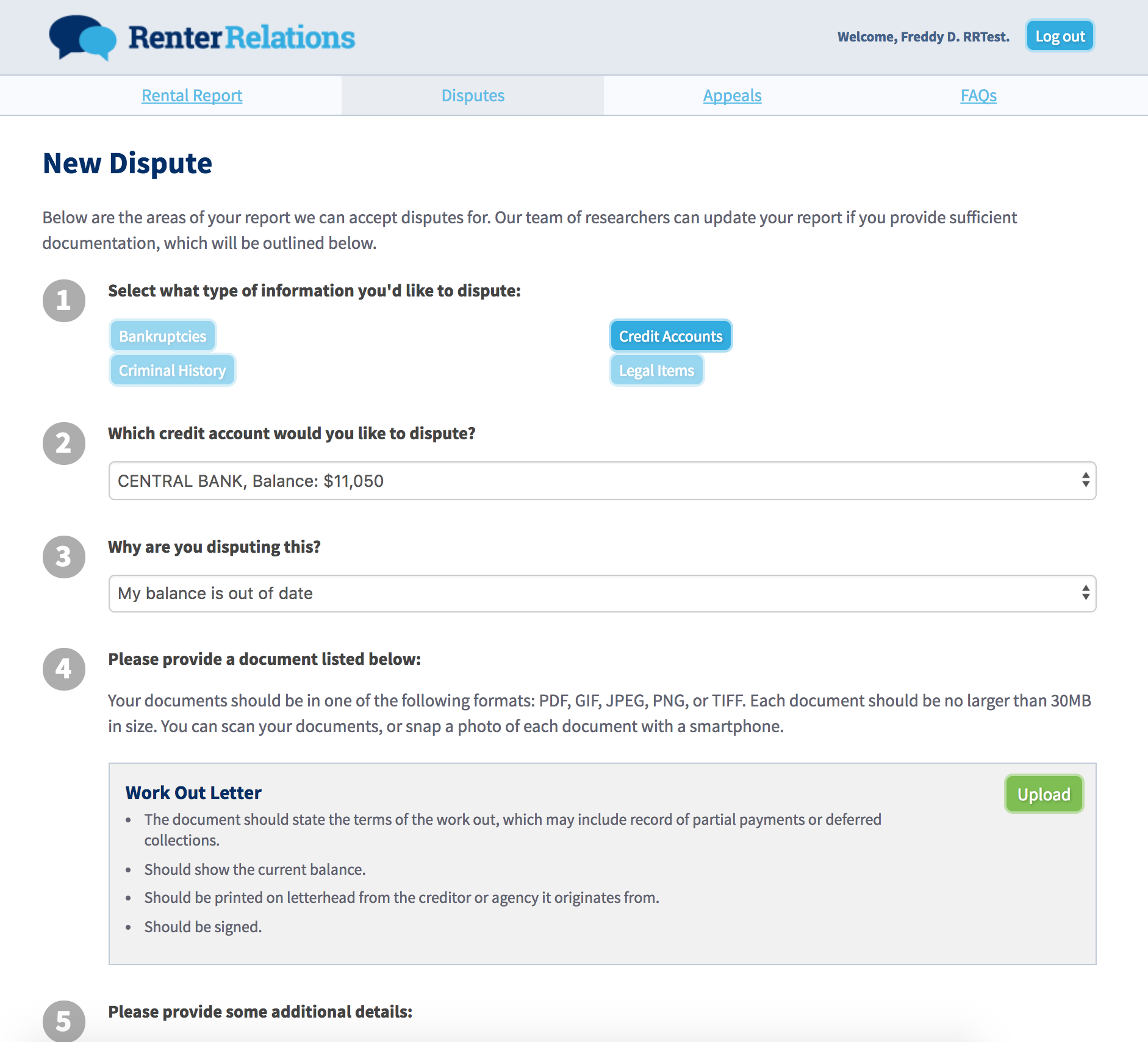 A snapshot of the new dispute process following the release of our proprietary backend. This flow allowed applicants to pick a specific item on their report to dispute, which saved our agents time trying to figure out the reason for a dispute.